This is a fixed (no rotation) plan that uses 21 teams and three 8-hr shifts to provide 24/7 coverage. Each employee is scheduled to work 5 days, 40 hours per week, and take 2 days off. On any given day, 15 teams will be scheduled to work and 6 teams will be off. Each shift will be staffed by 5 teams so the minimum number of employees per shift is five.
When emergencies arise and an employee needs to take a few days off, it can be a challenge finding a replacement to ensure adequate shift coverage while taking into consideration time-off constraints, union, labor and overtime rules, employee availability, skills, preferences, etc.  Snap Schedule 365 employee scheduling software solves these challenges and help companies build smarter schedules, avoid unnecessary overtime, and always know who is working where and when.  Get your free trial now.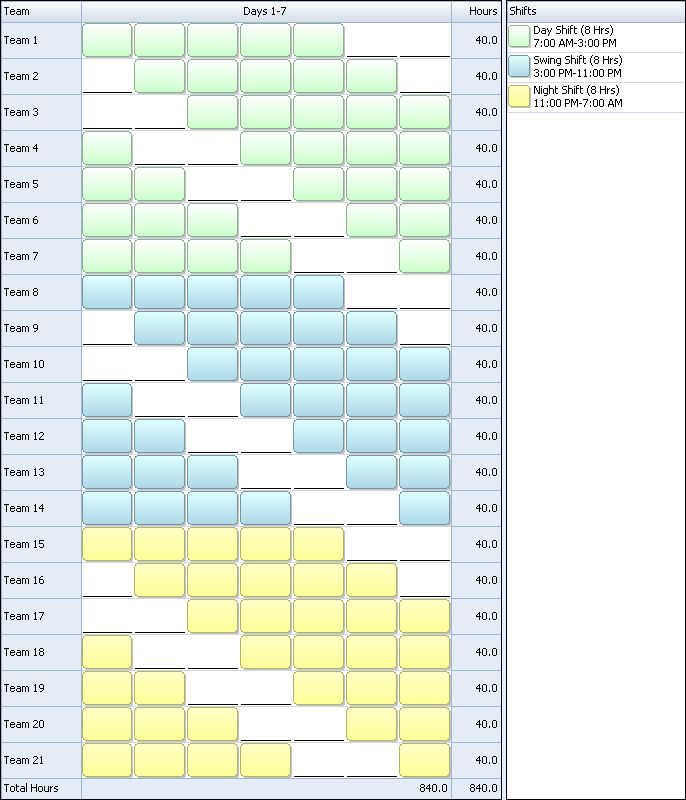 Characteristics

Plan ID
C21TF08-1
Name
21 Team Fixed 8 5D Plan
Applicability
24/7 operations
Teams Required
21
Shifts
Day (8-hr), Swing (8-hr), Night (8-hr)
Repeat Cycle
7 days
Rotation
Fixed plan, no rotation
Average Hours per Week
40
Staffing Fluctuation
Balanced from shift to shift and day to day
Pluses

40 hour work week for 24/7 operations
Fixed weekly schedule for each team
Same 2 days off after working five consecutive days

Minuses

Seven teams must work continuous night shifts
Only one team out of five teams assigned to each shift has a weekend off
Must have a minimum of five employees per shift

Common Usage
24/7 operations requiring 8-hr fixed shifts.
Notes
For 24/7 operations, rotating schedule plans requiring 4 or more teams are preferable. This plan may be unfair to employees who must work the night shifts.